For the first time ever in this house and with kiddos and cats, we got a real Christmas tree. We still put up the fake tree in our family room after Thanksgiving but a few weeks ago we added the real tree to our living room. It is so nice to have the fresh scent in the house. There is nothing quite like a real tree at Christmas.
The down side to having the real tree is the mess it creates, especially if you forget to water it and it dries out more quickly than expected. It's also a fire hazard if your tree becomes too dry. We all need little reminders, especially around the holidays so I was excited to try out the TreeNanny. It is a smart, hassle-free Christmas tree watering system that automatically monitors the water levels in the base of the tree to help make sure the tree is being properly cared for.
When it needs water, the tree plays "Jingle Bells" to alert the owner. (You can hear it play on my instagram video.) When the lights are turned off, the system deactiviates so as to avoid waking up the family. However in the early hours of the morning, all bets are off; the other morning the song kept playiing and at 6:30am I had to run downstairs to water it.
Other than being a helpful reminder system, the TreeNanny makes it easier to water a tree, especially if you have dense or low lying branches. The water container attaches to an upper branch and water travels through the tube to the base. Just make sure the tube is securely in the base before you water it. I learned that the hard way when the tube somehow became dislodged.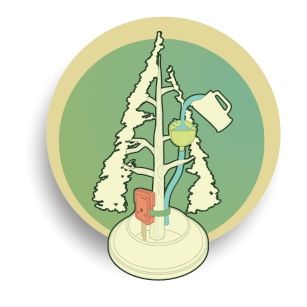 TreeNanny Features:
Extends the life of the Christmas tree and prevents needle shedding
Plays "Jingle Bells" when tree needs water
Makes alerting sound to prevent overfilling
Will not wake the family up at night
Easily installed and operated
Works on all standard tree stands
A watered tree is a safe tree
TreeNanny is a convenient and safe solution to maintaining a healthy Christmas tree and makes a wonderful gift for friends and family this holiday season for just MSRP $24.95. Visit www.LandMarcProducts.com to order online and view the demo video.
A sample was received for consideration.