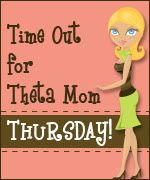 Last week, Mama had no time out. This week, well, you be the judge. Grandma came over for a few hours and I could have done anything. A few ideas quickly ran through my head. I could go shopping, take a shower, nap. It was a little stressful having to pick just one, but that's all time would allow.
I chose to clean the refrigerator. I know, it's a stretch calling this a Time Out. But at the risk of sounding like Monica Gellar, I truly enjoyed doing it. Nobody was whining or hanging on my leg and I was free to scrub away. I did a LOT of tossing; there were quite a few science experiments in that cool box.
Not that my other ideas weren't brilliant, but I feel so much better now that my fridge is clean. I've been procrastinating this task for months. Yes, I did say months. Task accomplished. Now maybe next time I can do something really fun. So what do you think, is this worthy as a "Time Out"? I'd love to hear your thoughts!
If you did something for yourself this week–without the kiddos, go on over to Theta Mom's blog (just click the button above) and link up your Time Out for Theta Mom Thursday post.