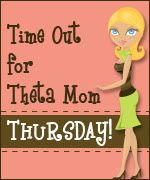 Sadly, I did not have a time out this week. We did attend a family birthday party on Saturday and then went to our local farm on Sunday for Pumpkin and Apple picking (see yesterday's post for pictures). So, I figured I'd talk about a second time out that I had the week prior – why not?
I went to the dentist for a filling. Don't laugh. Okay, you can stop now. Believe it or not, this was actually a pleasure. I dropped off DD at her Aunt's house, brushed my teeth and off I went. My dentist is great. He numbed my gums and then let me lay in the chair for a good 10-15 minutes. He did a really good job, too because I couldn't feel a thing as he drilled and filled. It was actually quite relaxing. Really, you can stop laughing now.
After the dentist I went to one of my favorite stores on Main Street in Medford, where I bought some vintage goodies for my Etsy shop and some clothes for my girl. See, it's hard for me to shop here with my daughter. The store is an old three-story victorian home and it is not stroller-friendly. I had such a good time shopping before I had to head back to my sister's house. Sure I could have done without the dentist part – but the hour and a half break was just what I needed.