Samples were received for consideration. Affiliate links featured below.
Summer is finally here; hooray!!
What are your plans for this long awaited season? Whether you have lots of pool or beach days planned, summer travel, or you're just hangin' at home, gear up with these summer-themed Friday finds for home and family.
All of these products are ah-mazing and therefore we hereby deem them Summer 2018 Must-Haves:
BelaBANDS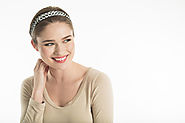 These neckwear/headwear/bracelet multi-use bands are perfect for keeping the flyaways tamed. We keep them in our beach bag for hair emergencies, and also great for accessorizing. We love them! $8; Dona Bela Shreds
DYNAMIKOS Sunnies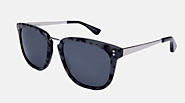 We love the oversized Samson Shiny Tortoise premium metal and acetate frames in gray and black tortoise shell with smoky lense. They feature 100% UV and UV-B protection, are scratch resistant and great for the beach. Super stylish, too! $225; DYNAMIKOS Brand
milk + sass Macaron hair brush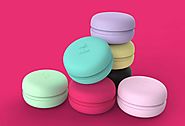 These things are so cool! They take up very little space in your bag so you won't ever be without a brush and best of all - they're tangle free! The other side features a mirror so you can easily check your work. $13; Amazon
Keter Patio Cooler Table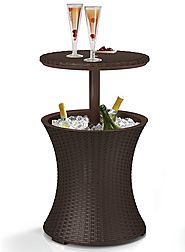 We have two of these on our patio. They're the perfect side tables for our lounge chairs but with a hidden secret compartment which holds ice and stores drinks! Best of all, it still functions as a table when open. I found it on WikiBuy.com where you can search for any product and it will tell you where you can find it the cheapest online! $63; WikiBuy
The Jersey Shore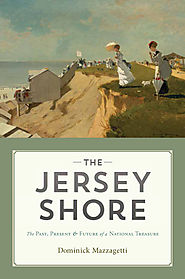 For all you Jersey Shore lovers! No, we're not talking about the television show. In this beach read, The Jersey Shore, Dominick Mazzagetti provides a modern re-telling of the history, culture, and landscapes of this famous region, from the 1600s to the present. The Shore, from Sandy Hook to Cape May, became a national resort in the late 1800s and contributes enormously to New Jersey's economy today. Ultimately, this book is an enthusiastic and comprehensive portrait by a native son, whose passion for the region is shared by millions of beachgoers throughout the Northeast. $23; Amazon
Lavish Leathers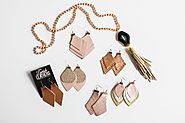 This stunning leather jewelry comes in a variety of colors and prints. They're nice and lightweight for summer and certainly make a statement. Earrings feature Nickel-free hooks for added comfort. $11 and up; Lavish Leathers
Hard Candy Plumping Serum Lip Gloss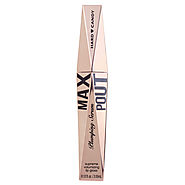 Just in time for national kissing day on July 6th! This Outrageously shiny, volumizing, hydrating lip gloss is available in 24 shades. Pucker up! $6; Walmart
Black Goji Berries from ZenChi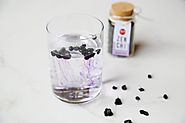 If you love to entertain in summer, these berries are great fun in cocktails or use them for the health benefits! For hundreds of years, the Salar people, an indigenous minority from China's border with Tibet, ended their day with the ritual of soaking black goji berries in water and drinking the elixir, an act that detoxified the body and calmed skin after a day working in the hot sun. No matter your favorite summer activity, black gojis can help your skin replenish and recover, and they look super cool! $25; ZenChi
LuLaRoe for the entire family!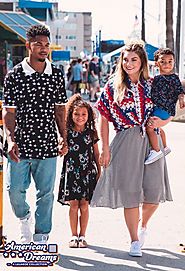 Just because the 4th of July celebrations have ended doesn't mean your style has to get any less Patriotic! The new collection from LuLaRoe is called "American Dreams" and features all-American designs for the entire family, young and old. All of their clothing is extremely soft, comfy. and cute. $23-60; LuLaRoe
Neutrogena Hydro Boost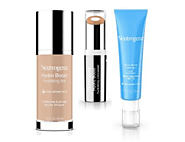 Neutrogena's hydrating formulas are essential for flawless summer makeup. Neutrogena® Hydro Boost Hydrating Tint ($16.99) moisturizes and plumps skin for 24 hours, improving the suppleness of skin overtime, Neutrogena® Hydro Boost Hydrating Concealer ($14.99), a lightweight formula glides onto skin providing silky-smooth, natural-looking coverage and the Neutrogena® Hydro Boost Water Gel with SPF 15 ($19.99) daily moisturizer quenches dry skin, boosts skin's hydration level and locks it in all day. Neutrogena.com
Swimsuit Travel Bag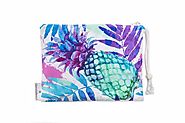 We love smart packing hacks & traveling in style! BandaBeau's waterproof and antimicrobial swimsuit bags are a fashionable solution for separating wet clothes and keeping them mildew and smelly-free. Includes a convenient drawstring wrist strap for carrying with ease. $20; BandaBeau
Towel Tamer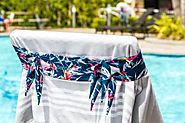 The first beach towel accessory to combine fashion with function, this towel-taming, seat-saving, stuff-storing solution is the ultimate beachfront and poolside essential. The bandeau bikini-inspired towel band wraps around the top of a lounge chair to keep wind-blown beach towels in place – it's fully adjustable and made from a stretchable, swimsuit fabric, and comes in a variety of vibrant prints to ensure one's beach chair stands out in a crowd and saves your seat at a crowded pool. It also has a hidden zippered pocket, the perfect place for stashing small valuables, that converts to a travel pouch, so its compact enough to tote in a beach bag or pack in a carry-on. $30, BandaBeau