This shop has been compensated by Collective Bias, Inc. and its advertiser. All opinions are mine alone. #Homemade4TheHolidays #CollectiveBias
Many Italian Americans have a Feast of the Seven Fishes on Christmas Eve. Our family over the past several years has been having this feast whether our day together falls on Christmas Eve or Christmas Day. Fish is something special that we don't get to eat every day or even every week so Christmas being a day to celebrate something as awesome as Jesus' birth is the perfect time to enjoy an extraordinary meal together. Our feasts are anything but traditional and have even been modernized to include such things as sushi and raw oysters. There are no rules here – you don't even have to have exactly seven fishes and in fact we love to enjoy more like ten or eleven; the more the better. One of my favorite classics is steamed mussels in broth. It's always a pleaser!
Mussels are also relatively inexpensive so you can afford feed a crowd without a large budget. My friends know that I love to save money whenever I can because it increases our ability to donate to the less fortunate, especially at Christmastime. We like to purchase gifts for our local parish that support members of our community who are in need and we also regularly contribute food to soup kitchens. We like to seize as many opportunities to give back whenever possible.
One of the ways we save money is by shopping at Sam's Club and for my recipe I needed to pick up Swanson® Chicken Broth which comes in a pack of six 32oz resealable cartons. I love being able to easily store whatever I don't use for my next recipe. America's best-selling broth is completely natural and made without MSG, preservatives or artificial flavoring but it is made from farm raised chicken, vegetables and herbs picked at the peak of freshness.
Right near the broth I found a 10 count pantry pack of Campbell's® Condensed Cream of Chicken Soup 10.5 oz cans which are a convenient pantry item as are the Campbell's® Condensed Cream of Mushroom pantry pack 10.5 oz soups which are also available at Sam's Club. Sometimes I have allergic reactions to artificial things so I love that there are absolutely no artificial flavors, colors or preservatives in these soups either. Hover over the image below to start shopping for Swanson® Chicken Broth and Campbell's® Cream Soups!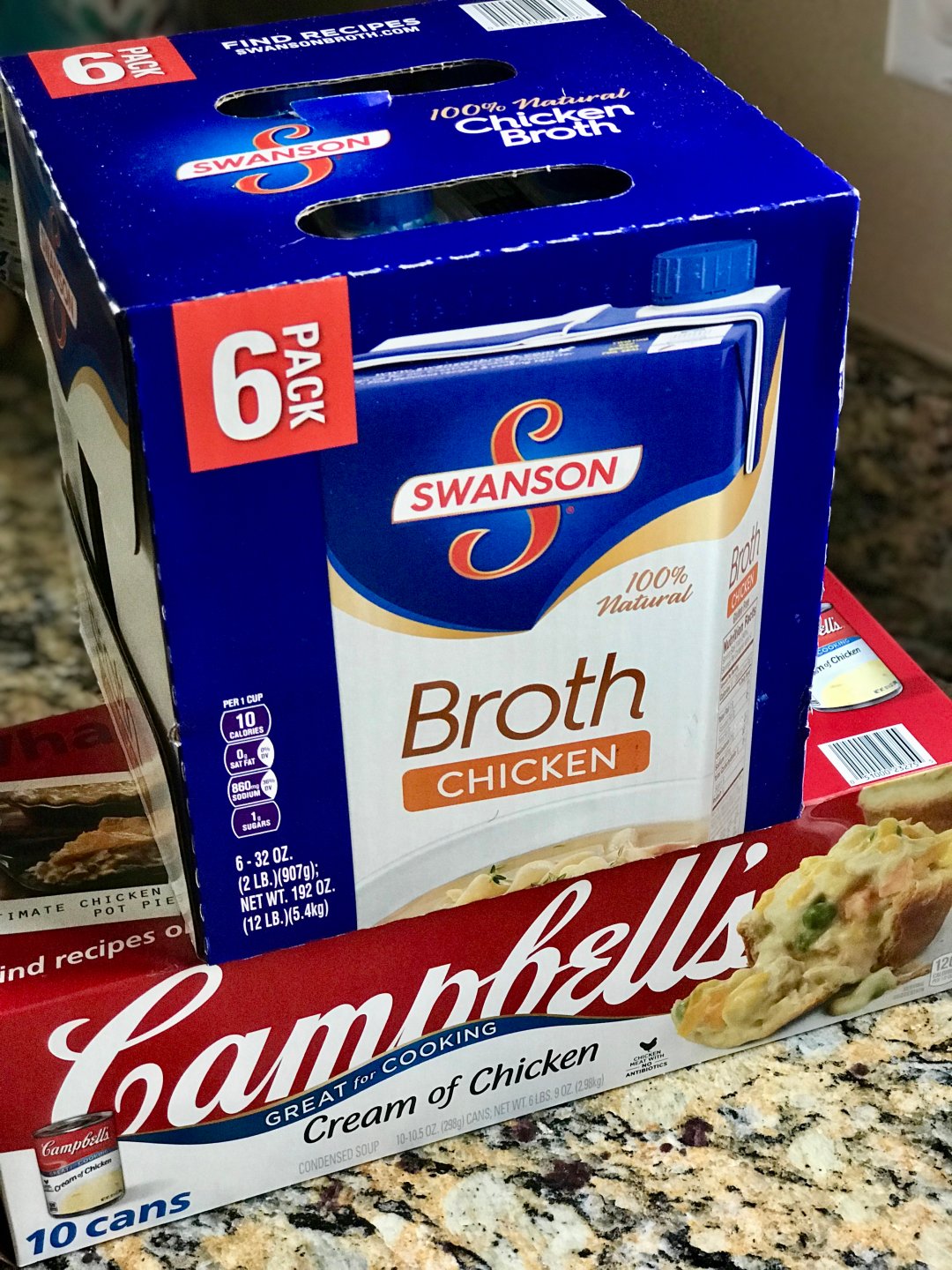 Just last night I made a delicious chicken and cheesy rice bake with the Campbell's® Condensed Cream of Chicken Soup. I also like to use them for my Chicken Enchilada Bake. These are the perfect staples to have on hand during the holiday season – the options are endless!
Even if I stop in at Sam's Club for one or two things, you can pretty much guarantee I'll be there for a few hours. This time I even got some Christmas shopping done! Did you know they sold giant bath bombs? I even found some organic essential oils. You never know what you'll find there.
This recipe is quick and easy which is important on Christmas, especially when you have six or more fishes to make for your meal! If you have seen my recipes before, you know that I like to keep things simple anyway. If something is easy to get from the fridge to the table, I am more likely to make it again and again. The first step is to check your mussels. Make sure none are cracked or open and discard any that are. I was in a pinch and did not shop at my usual fish market and as you can see many of mine were duds. Lesson learned! Rinse and remove any beards.
Sam's Club will be hosting their annual Holiday Taste of Sam's event, a huge in-club demo sampling occasion. Swanson® Chicken Broth will be sampled with Idahoan Mashed Potatoes on Dec 21 & 22. Stop in for a tasting and enjoy a temporary price reduction of $1.50 off Campbell's® Condensed Cream of Chicken Soup, and Campbell's® Condensed Cream of Mushroom Soup while you're there!
Check out more Campbell's® Cream Soups and Swanson® Broth holiday recipes and inspiration here.
3.4.3177
Steamed Mussels in Lemony Garlic Broth
Make this delicious appetizer anytime you crave mussels. It's easier than you think!
Author:
Heather @ GirlGoneMom.com
Ingredients
4 pounds fresh mussels, cleaned
2 tablespoons extra virgin olive oil
2 teaspoons minced garlic
½ cup dry white wine
1 cup Swanson® Chicken Broth
Juice from one lemon
1 cup roughly chopped parsley
Fresh Italian bread
Instructions
Rinse and clean mussels, discarding any open or cracked shells
Heat oil in a large saucepan and sauté garlic for 30 seconds.
Add mussels along with broth, wine and lemon juice.
Cover and steam for about 5 minutes until mussels are fully cooked and open.
Mix in parsley.
Serve with fresh Italian bread.