No matter what you are celebrating during this season, one thing is for certain – we are all eating. This Season's Eatings are sure to be delicious, and there are so many different options when it comes to baking, gifting and entertaining. Food gifts are the best!
Food Gifts and Essentials for the Holidays
Gourmet Gift Baskets Ornament Popcorn Tin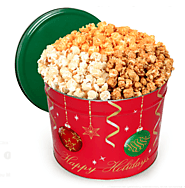 Send the cheeriest Christmas greetings with this festive gift! Inside a delightful holiday tin, your recipient will discover an abundance of handcrafted gourmet popcorn that's selected by you. Take your pick of the People's Choice or crisp Traditional trios to create an enchanting gift that's impossible to resist. $24.99 and up; GourmetGiftBaskets
Tuscanini Parchment Crackers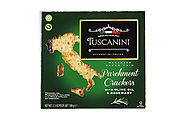 So light and delicious, Tuscanini Parchment Crackers are paper-thin treats imported from the idyllic island of Sardinia. These GMO free crackers are the perfect accompaniment to antipasto or cheeses, and make a delicious complement to any meal. Each cracker is made from an authentic Italian recipe using time-honored techniques to preserve their delicate flavor and texture. $2.99; Tuscanini Foods
Classic Deer Gift Hamper from Dancing Deer Baking Co.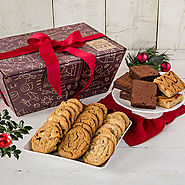 Holiday Gifts from Dancing Deer Baking Co. have a wide variety of gourmet cookie and brownie gifts for all occasions from under $20 to upwards of $130 and everything in between. They even have NEW Gluten Free gift baskets and for their New Christmas Bakery Gift Plus they have taken all their best-selling Christmas Bakery Gift Assortments including their award-winning Molasses cookies and brownie and added one of their delicious pound cakes. We love the Classic Deer Gift Hamper which comes in a hamper-style gift box filled with delicious cookie and brownie treats! $59.95; Dancing Deer Baking Co.
Dr. Pepper Cake from Cafe Valley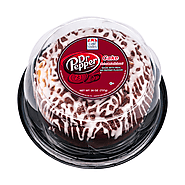 Café Valley Bakery produces high quality bakery products for In-Store Bakeries, Club Stores, Food Service and Convenience Stores throughout the world. They manufacture the most delectable Croissants, Muffins, Bundt Cakes, Ring Cakes, Loaf Cakes, Danish and Turnovers, Café Bites, and their signature Dr. Pepper Cake - so moist and delicious! This is the perfect treat to serve guests or bring to a party! $6.99; Cafe Valley
Funky Chunky Café Gourmet Coffee Flavored Popcorn
The latest offering from Funky Chunky is a new mix of popcorn, caramel and coffee in three flavors: Caramel Latte, Vanilla Sweet Crème and Dark Chocolate Mocha. The treats come in two sizes: 5 oz. and 19 oz. $6.50 and up; Funky Chunky