Last Saturday, my daughter and I hit the supermarket after our dentist appointments to pick up a few things. Our local store was having a sampling event which added to the excitement of our morning out. I'm always looking to find new food items that the kids will eat, or rather that all of us can really. It can be challenging when you have picky eaters in the house, so it was nice to have the opportunity to sample and discover new possibilities.
This is why I love checking out new products. Whether it's for the kids, parents or pets, I hope to give you some new ideas by introducing new finds each week. So without further ado, below are some of our latest food and drink finds.
Friday Food Finds
Tarantas organic wine

Are you mindful of the foods that you nourish your body with but also enjoy a nice glass of wine at the end of the day? You're in luck. These delicius pure wines capture the essence of Spain in every glass. They've got an exciting recipe contest going on right now if you're inclined. Tarantas wines are available at Whole Foods Market nationwide. $12+, Tarantas Wines
Quaker Breakfast Flats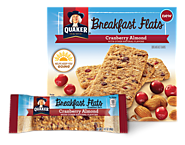 We ingest a whole lotta Quaker in the house, especially the oatmeal and granola bars. These new breakfast flats are a delicious new option with a thin crunch similar to that of a cookie. Three flats are included per package offering a quick breakfast or snack with 18 grams of whole grains and less than 200 calories. Flavors include cranberry almond, golden raisin cinnamon and banana honey nut. $3.49, Quaker
Chef's Cut Jerky
I've never been a big fan of beef jerky before because it's typically super fatty and greasy. I'm so glad I decided to try this brand because it is anything but. This jerky is healthy and delicious, made using high quality hand-cut ingredients. It's low in fat, gluten free, lower in sodium and made without nitrites or high fructose corn syrup. There are a variety of meats and flavors offered but my favorites were the buffalo chicken and the chipotle cracked pepper steak. It is sold in 2.5 oz package which I can easily devour in one sitting. $5 Chef's Cut
Popkoff's Russian Dumplings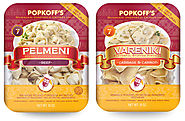 Kids are used to eating pasta, so introducing them to Pelmeni (filled with chicken, beef or cheese) and Vareniki (filled with potato and onion or cabbage and carrot) was easy. These foods are very similar to italian tortellini and ravioli. These authentic Russian dumplings are stored in the freezer and cooked in only 5 minutes. Popkoff's uses the highest-quality ingredients to make the best-tasting and cleanest products possible by using non-GMO King Arthur Flour and Mary's Free Range Chicken. Meats are antibiotic and steroid free and the dumplings are completely free of preservatives, artificial flavors or colors, soy, or fillers. Sold in 10 oz packages. $5.99 Popkoff's
Freshpet for your pooch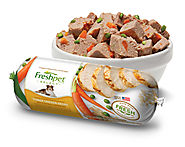 Do you love to spoil your pet. Fresh nutritious food is the way to do it. Our new pup loves us extra hard when he gets it in his bowl. Packed with vitamins and proteins, Freshpet foods offer fresh meats, poultry, and vegetables farmed locally. Find the delicious line in the refrigerator section in the pet food aisle. $6.99+ Freshpet
Greek Gods Yogurt and Lebni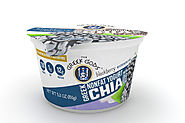 I grew up eating Lebni with pita and olives. Lebni is very similar to greek yogurt, but better when eating savory food. I was so excited to discover that Greek Gods offered premade Lebni for sale because I've never been able to purchase it anywhere. I'm also loving their Nonfat Greek Yogurt with Chia Seeds with comes in Strawberry, Peach, Blackberry and Vanilla; it's high in protein, has 120-140 calories per serving and is creamy and delicious with added texture from chia seeds so you don't need to add them yourself. Best of all, the milk used is rBGH free.
Which of these exciting finds are you most interested in trying?