If you've been reading this blog for a while, you might have figured out that we. love. food. Whether savory or sweet, there aren't many foods we don't enjoy. If you consider yourself a foodie too you might be interested in hearing about some of our latest foodie finds. Happy eating!
Friday Finds You Must Eat
EatUSA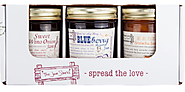 If there's one thing we like more than foods, it's US made products. EAT USA offers products caught, made, grown and produced exclusively in the USA, delivered right to your doorstep. The package we received included four mini jams from The Jam Stand in Brooklyn, NY. What a delightful foodie gift. EatUSA
Pereg Natura Gourmet Food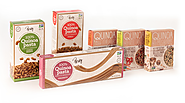 We just recently discovered quinoa pasta. Whether you're following a gluten free diet or simply want to eat well, this is a great new option. Pereg offers a variety of dry foods including many quinoa products and spices. These products come together to complete your healthy holiday dinners. Pereg
Jennie-O Oven Ready Turkey
Jennie-O is nothing new to our house. We buy the ground turkey, breakfast sausage and turkey bacon regularly. Jennie-O now offers great holiday options like Jennie-O Oven ready turkey, a fool-proof whole turkey that goes straight from the freezer to the oven and requires minimal prep and no thawing or handling of raw poultry. Jennie-O
Zouq Foods

These globally-inspired gourmet snacks transport you on a journey of culinary discovery with every bite. Crafted for foodies and global adventurers alike, Zouq's deliciously exotic snacks are made with authentic, all-natural ingredients sourced from around the world to deliver an exciting snacking experience packed with the bold, savory flavors and textures of South Asia. These snacks are irresistibly delicious! Zouq
Which would you like to try?