Post contains affiliate links.
If there's one thing you can do for your kids that feeds their minds and excite their souls, it's reading. We read nightly and whenever the mood strikes. My oldest has started reading on her own and it's amazing to see her confidence grow as she translates words on a page to a story that she finds interesting.
These are a few of the latest titles we've added to the kids' library.
The Boy Who Fell Off the Mayflower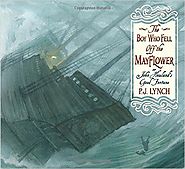 We can count the number of Thanksgiving-themed books we own on a single hand. I was so excited to add this one to the kids' library. It's a surprisingly accurate take on the historical events as told from a young person's perspective and with the most beautiful illustrations. $12.73 Amazon.com
Peanuts Mistake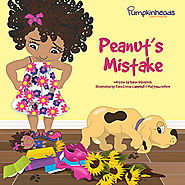 As the rule goes in Peanut's house, you're not supposed to run. Peanut doesn't listen and guess what happened? He made a big mess, if you haven't guessed. The moral of the story is that we all make mistakes, we just have to learn from them. All kids will relate to this story - my Emma did! This 8x8 book features 32 pages, all full color. $5.99 pumpkinheads.com.
Imagine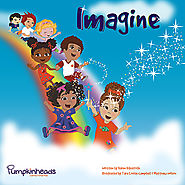 Slide down rainbows and swing from stars! Bounce on clouds and drive fast cars! Join the Pumpkinheads as they switch the world around in a silly adventure that explores the power of imagination and the differences that make the world beautiful. 32 pages * 8X8 * Full-color illustrations $5.99 pumpkinheads.com
Can't Wait To Show You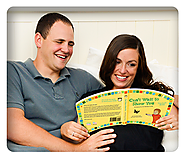 Ready for the cutest baby book around? Can't Wait to Show You is the first title in the Belly Books Collection, durable board books made in the USA and expressly designed to read to babies before and after birth. Belly Books are inspired by a wealth of recent scientific evidence showing the powerful effects of reading to babies in utero. A distinctive feature of the book is its unique "belly curve," shaped to rest comfortably over the baby bump and later around the newborn. Such a cute and unique gift. $15 Amazon