Some of these ideas were received for consideration. We love them all!
What's one gift that's universally desired and easy to give? Food! This is my fall back when I don't know what else to give or if I don't know the person that well. We all need to eat, and treats whether sweet or savory make a desirable gift for pretty much anyone.
Tea Brewing Tumbler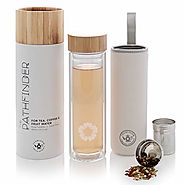 This is a must for any tea lover! The Pathfinder by Teabloom. Brew and go with this tumbler and travel flask. This is your go-to hot or cold tea tumbler, insulated coffee thermos, sports water bottle, and infused water flask all in one. No matter where you go or what the season, Teabloom's All-Beverage Flask does it all. $25
Nielsen-Massey Lemon Paste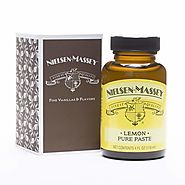 I love lemon flavors in pretty much every type of food whether sweet or savory. Problem is I don't always have fresh lemons lying around. Made with our Pure Lemon Extract, Pure Lemon Paste. it contains the natural essence of the highest quality California lemons. This is a true time-saver in the kitchen, allowing you add a layer of sweet, bright, citrus flavor to many dishes, without the need to juice or zest. We love that this one is boxed and ready for gifting! $14
Crave Bros. Cheese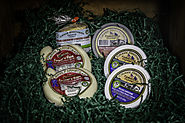 The Crave Cheese Samplers Gift box is a great gift. It comes with 1-12oz package of Cheddar Cheese Curds, 1-8oz container of Marinated Fresh Mozzarella, 2-8oz containers of Mascarpone, and 2-12oz coils of our Farmers Rope string cheese. Season's eatings! $23
Moore's Marinades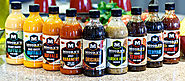 Moore's makes cooking easy – their sauces are so versatile and full of flavor, that the cook just needs to add a few basic ingredients to make delicious recipes – from appetizers to the main course. Here are a few which would be perfect for any holiday party, or gifts for the host! $13
Smelly proof food storage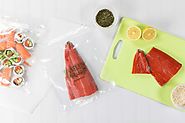 Holiday hosting means hours slaving over delicious dishes. But what do you do with that leftover food when bellies are full and food comas set in? Lock in the freshness and store them in your freezer or refrigerator with Smelly Proof! These helpful bags are flexible and reusable. When sealed Smelly Proof Ecosystem prevents vapor or oxygen to get in or out of the bag keeping them fresh and preventing any odors from being released. Available in different sizes. $10+
Mionetto Procecco
You can never go wrong with serving Mionetto's classic Prosecco DOC Treviso Brut this holiday season. With aromatic notes of honey and acacia blossom, this wine can be served chilled on its own or used to create your own holiday cocktails. Meanwhile, your turkey dinner only needs one other thing to complete it; Mionetto Prestige Rosé ($ 14). This rosè is the result of soft pressing of red grapes. The peach blossom color, accompanied by a fine perlage brings liveliness to the holiday table. Serving this cuvée with a grilled turkey breast or fish (or a variety of fish on the Feast of Seven Fishes) is sure to be a recipe for success. $14
Légende Bordeaux Blanc 2017

Légende Bordeaux Blanc, made from Sauvignon and Sémillon, explodes with freshness. On the nose, refined and aromatic, combining citrus notes (grapefruit, lime) with aromas of exotic fruit (passion fruit). On the palate, the wine is fresh, lively, seductive, and aromatic, with exotic notes on the finish. $18
What are your favorite foodie gifts to give?