Easter is such an exciting time of year for my kids. They love all of the egg hunts in our area and look forward to catching a glimpse of the bunny. Dad and I look forward to the yummy Easter dinner and relaxation after the day is done.
We like to have the bunny bring a little bit of candy, and a lot a bit of fun. Below are some of our new favorite finds for the holiday.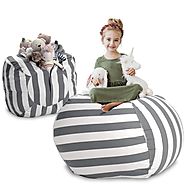 If your child's room is overflowing with stuffed animals? This is the perfect solution, wrapping up to 90 toys in one comfy pouf ottoman to instantly clean up the room. $28.95 | Amazon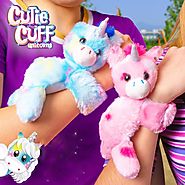 These Unicorn Cutie Cuffs will be the delight of any little girl on Easter morning. There are 8 huggable friends to collect, so she's going to want to take these enchanted creatures with her wherever she goes! $7.99 | Amazon
Dying eggs is probably the highlight of Easter for my kids (other than the actual baskets). I love these ceramic eggs because I can leave them out for display after the dying is done instead of storing them in the fridge, leaving puddles of dye behind. We still have our ceramic eggs from last year. They're also great if you have an egg allergy in the family. $18 | Egg Nots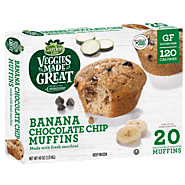 Easter morning is busy between church, egg hunts and traveling. Serve up a delicious breakfast that's secretly healthy! These veggie-packed products are available as Muffins, Superfood Veggie Cakes, Frittatas, Bakes, Bites and Waffles. Yum! $5 | Target
5
SmART Sketcher Projector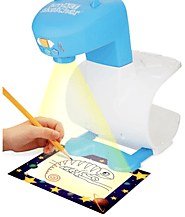 My kids went crazy over this art accessory! If you're looking for an Easter gift that will get the kids off of their devices, this is it. This projector comes with several drawings that they can trace giving them the confidence to start drawing on their own. This nifty tool will even convert a photo into a drawing, too! $60 | Target or Amazon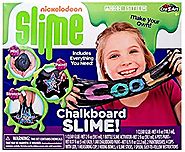 Have a slime lover in your house too? This chalkboard slime totally ups your slime game. Includes everything you need to create your own chalkboard coloured Nickelodeon Slime all in 1 kit! Make a large black slime then use the brushes and special chalk paints to paint designs, words or pictures onto your slime. You can stretch your slime to see the images stretch and morph! The coolest part about this is after your design stretches and morphs you can knead the slime and the paint will blend into the black slime. $30 | Indigo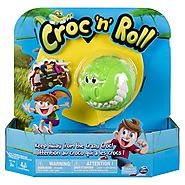 My son loves games. This one will get him moving! Hop, skip and jump – just don't let this Crazy Croc get you! Croc 'n' Roll is the fast-paced game that gets kids up and active! It's easy to get things rolling: place the colored lily pads inside the silly swamp ring, then turn the croc loose – he's ready to chomp! Once the Crock starts rock 'n' rolling, players jump from lily pad to lily pad – but look before you leap! Jump onto the wrong color, step outside the swamp ring, or bump into the Crazy Croc and you lose a lily pad. The last player standing on their lily pad wins! $15 | Indigo
8
Rabbit's Hat Magic Tricks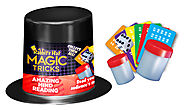 A magician is nothing without her hat, and with these hats you too can become a master magician. Aspiring magicians ages six and up can take their show on the road with these portable mini magic kits. Each small top hat contains the props and instructions to perform two or three simple, unique magic tricks with different themes — from shape-shifting to mind-reading to x-ray vision, and more! $4.95 | Thames and Kosmos
9
Lil' Flockers Fuzzy Friends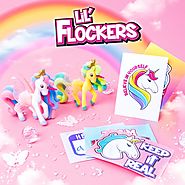 Unicorns are all the rage and these unicorn blind bags are the perfect addition to Easter baskets! Each blind bag comes with a secret magical unicorn figure, a colorful unicorn sticker, and a checklist to keep track of your mythical friends! There aren 18 to collect. *$3.99 | Target *
These Radz and Foamz Easter themed candy dispensers are super fun and affordable! Hide them around the house for a hunt Sunday morning, or group them with other goodies in your baskets. Each dispenser comes with a 0.7 oz pack of yummy Easter themed candy featuring Bunny Berry Blast, Eggcelent Fruit Jumble, Hoppin' Bubble Gum and Tropical Spring Time flavors, and a coloring poster! The Foamz dispensers can even double as finger puppets so you can add to the Easter festivities by entertaining your family with an amusing show. $3-4 | RadzWorld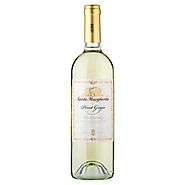 It's always the perfect time for some Santa Margherita Pinot. This varietal is the #1 selling Pinot Grigio in the country for a reason! It's light and crisp and the perfect gift to accompany Easter dinner. Both hostesses and guests will be delighted to see Santa Margherita on the table.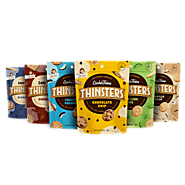 If you're looking for something other than straight candy for those baskets, Thinster's Cookie Thins satisfy that sweet craving without the junk. They're Non-GMO, RBGH Free, No Corn Syrup, No artificial flavors, colors, or preservatives. Yet somehow, they're delicious! $3
These little test tube slime kits fit perfectly into Easter bags and baskets! Kits range from color-changing, magnetic, glow in the dark and more! $5