Samples received for consideration.
The Easter bunny is getting ready to hop on over to surprise your kiddos with candy and toys, but Easter isn't just for the kids anymore. This holiday season is a great opportunity to surprise loved ones of all ages, from 5 to 95!
Not sure where to start? Here are a few ideas to get your inspired, and at all different price points.
FlipZees - miniature FlipaZoos!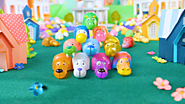 These two-in-one cuddle buddies will add some flipping excitement to your Easter basket. The little 5 inch stuffed FlipZees are perfect for collecting and will have your little ones taking a break from chocolate eggs this Easter and hunting for cuddly FlipZee plush instead. There are 101 different FlipaZoo mini collectibles (pictured above) to collect! Collectibles $1.88 and up Stuffed FlipZees $3.88; Walmart
Double Bunny Easter Basket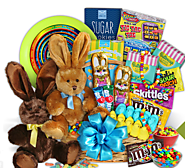 If you have two kids to provide gifts for this Easter, why not send them a two-in-one basket? I love this one which includes double the treats and more to share. Whatever kind of Easter basket you're looking for whether it be candy-filled, toys, spa and practically anything else you can think of - you'll find what you need at Gourmet Gift Baskets. The best part is that they'll deliver it direct to your recipient with a note from you (or the Easter bunny). $129.99; Gourmet Gift Baskets
The Little Kernel Popcorn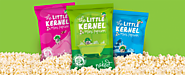 We're more of a snacking family than a candy family, so we're hoping the Easter bunny brings one of our favorite snacks - popcorn! Did you know that mini popcorn existed? We didn't until we discovered this great new snack product and we're in love. Popped in 100% pure olive oil, each popcorn is gluten-free, non-GMO, dairy-free, kosher and certified whole grains.

Even better, The Little Kernel comes in delicious flavors perfect for Easter! Think Sweet & Salty, Truffle Sea Salt and Pink Himalayan Salt. $4; The Little Kernel
Gourmet Jelly Beans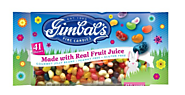 Gimbal's Gourmet Jelly Beans feature a 41-Flavor assortment with delicious favorites like Buttered Popcorn, Perfectly Pear, Ice Cream Cake and French Vanilla. All Gimbal's Gourmet Jelly Beans are made with Real Fruit Juice and Vitamin C. All Gimbal's candy products are Allergen Free: Peanut Free, Tree Nut Free, Gluten Free, Dairy Free, Egg Free, and Soy Free. Gimbal's candy products are proudly made in the USA and backed by a 100% guarantee. $2.69; Target
Send a SweetGiftsBox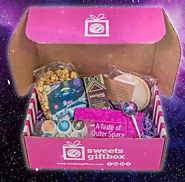 Actor John Ratzenberger, best known for his role of Cliff on Cheers and the only actor to voice a character in every Pixar film has launched a new business called TheGiftBox.com - the first of its kind subscription box company. One of the first offerings is the SweetsGiftBox filled with 4-5 goodies ranging from gourmet chocolates and cookies to artisan candies and treats ~ it's the ultimate sweet tooth experience! Each month each treat will relate to a fun theme! This month's outer space box was out of this world! There are no long term commitments, no cancellation fees and you can switch types of boxes anytime to make your gifts truly unique. $30; SweetsGiftBox
Design and Drill Robot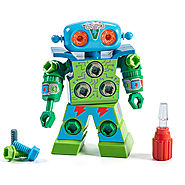 Designed for kids age 3-6, the Design & Drill® Robot is the perfect introduction to science and engineering through basic construction play. Snap, drill, and decorate your rockin' robot pal with kid-friendly tools that little builders can easily compute! $12.99; Educational Insights
IllumiCraft Lightup Journal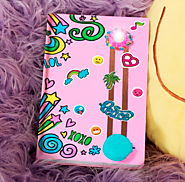 For girls 8-12 years old, IllumiCraft teaches how to engineer simple circuits, then use creativity to customize the colorful crafts with awesome accessories. These fun, DIY kits give creative kids a kick start into basic engineering and a brilliant look into the science behind circuitry. We love the appeal it provides to girls getting into journaling but with an educational aspect! $19.99; Educational Insights
Date Night In Box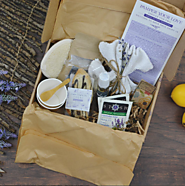 This is the perfect gift for your spouse or your favorite couple. This March box theme was "Pamper your love" and it smelled divine with all of the lavender items. Activities included a custom playlist to help set the mood, a signature sensual massage with handcrafted massage oil, a cleansing grains facial mask with exfoliating pad, a sugar lip scrub to get you ready to pucker up and a delicious cup of tea with sea salt or red velvet biscotti. This box like all others are designed to bring couples together - such a sweet idea! $35; Date Night in a Box