We are days away from the beginning of the school year, and I have mixed feelings about it. I'm looking forward to the schedule and structure it brings, and yet I also dread it at the same time. Plus I'll be mourning summer just a little bit. Whether you're in denial or so ready for the school year routine, there are likely a few things you still have to shop for. There will always be pencils and notebooks to buy, but we're listing a few other items you may not have thought of.
Stephen Joseph Lunchboxes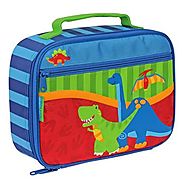 These classic children's lunchboxes have an inner mesh pocket. They are also fully insulated to ensure the food kept inside stays warm. Drinks are held using the interior Velcro strap, and personalization can be done on the front zipper pouch. There are many different styles to choose from. $15.90; Stephen Joseph
Office Depot Sackpack Program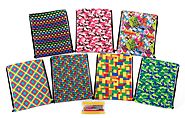 Here's a great reason to shop at Office Depot for the aforementioned school supplies. Thousands of sackpacks are distributed to kids through the Office Depot Foundation's continuing partnerships with a number of nonprofit organizations serving children nationally and globally. By the end of 2016, Office Depot and the Office Depot Foundation will have given away more than 4 million backpacks and sackpacks since the National Backpack Program began in 2001. The specially designed, drawstring-style sackpacks come in seven bright and colorful designs – several of which are new for 2016. Each one includes a zippered pouch containing a pen, pencil, pencil sharpener, eraser, six-inch ruler and four crayons. The sackpacks do not have any Office Depot Foundation or Office Depot logos or markings which would otherwise give away the fact that they were free of charge. For more information, visit www.officedepotfoundation.org.
Post-it® Weekly Calendar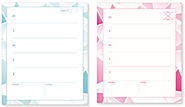 It will take a few weeks before we adjust to our new schedules, and I've learned that if I don't write it all down, something will be missed. I love these new Post-it® Brand Super Sticky Printed Calendars which are available in two color oprions, Aquarelle and Pink Geometric. The 25 sheet pads included the days of the week with space for notes and are 6.5 in x 7.8 in size. Post-it.com
Kidz Gear Headphones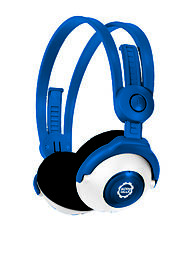 Headphones have become a necessity around here with the kids and their electronic devices. These Kidz Gear headphones are perfect for back to school season with homework requiring research, and checking YouTube for help with those pesky math problems! I love that they are wireless but also have the option of using them with the wire when there's no time to recharge. $49.99; Target
pediped footwear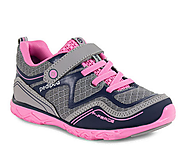 No school year can begin without a brand new pair of sneakers. pediped® footwear is a smart choice for parents concerned with the long-term development of their children's feet. Cute and comfy are our criteria for new sneakers and this Flex Force style fits the bill! $65; pediped
AcuRite Atomic Alarm Clock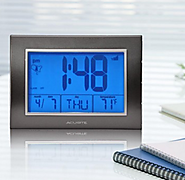 Those early morning wakeups always throw us for a loop. We need a good alarm clock and this one from AcuRite exceeds our expectations. The LCD screen displays time, month, date, day of week and indoor temperature. The clock automatically adjusts itself for Daylight Saving Time to make life that much easier. $22; AcuRite
Hanes undergarments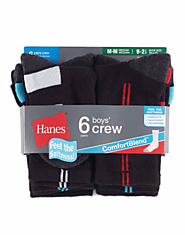 I'm not in such a rush to buy new back to school clothing because it's still warm here and the kids can wear their summer clothes for at least a few more weeks. However just before school starts up I always do make sure the kids are covered with new undershirts, socks and underwear and we absolutely love Hanes. You just can't beat the quality for your money. Hanes.com
Revolar personal safety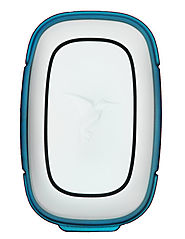 Whether your kids is 8 or 18, nothing is more important than your child's safety. This device pairs with the wearer's cell phone to provide an alert which provides your live and updating location to your contacts so that they can send help when there's no time for a phone call. $99; Revolar
Samples received for consideration.